Expect to see a lot of Josh Ferguson
Head coach Chuck Pagano has made it clear that the starting offense and defense will see much more action this week against the Baltimore Ravens and veteran QB Andrew Luck will open the game and is expected to play the entire first quarter.  He did not play in the win against the Bills last week.
While RB Stephen Morris had a good game in limited touches (3 carries, 19 yards) the Colts, expect veteran Frank Gore to open the game but play just a series or two.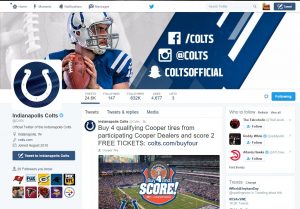 Expect rookie Josh Ferguson, whom have been intrigued with since before the draft and leading to his drafting, to play many more minutes Saturday.
"It was good just to get out there and play some ball again," Ferguson said of his NFL debut. "It was a great learning experience and I'm just excited for the next one."

"Josh has done a great job," said quarterback Scott Tolzien.
Plenty of great seats and affordable tickets are still available for Saturday's game as well as all preseason and regular season games.   Get your tickets today and help cheer on your Indianapolis Colts.