WR Donte Moncrief out up to six weeks
The Indianapolis Colts (0-2, 3rd AFC South) will try and get a win this weekend as they host the San Diego Chargers (1-1,. 4th AFC West).  Andrew Luck has been working hard and has completed 52 of 87 attempts for 582 yards, five touchdowns and just one interception through two games.
The Colts will be without receiver Donte Moncrief for up to six weeks after fracturing his shoulder blade against the Broncos.  Surgery is not expected.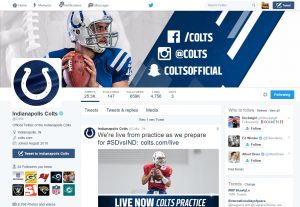 The Chargers, who bounced back from a crazy loss to the Kansas City Chiefs in week one with a 38-14 win over the Jacksonville Jaguars last week and they should be stiff competition against the Colts.
Expect a high scoring affair
Both defenses are in need of some work so expect a high scoring affair from two of the most effective quarterbacks in the league.  Phillip Rivers is only four touchdown passes away from tying Johnny Unitas (290) for 10th  all-time in NFL history and is five shy of Warren Moon for ninth.
Plenty of great seats and affordable tickets are still available so be sure to grab yours today and help cheer on your Indianapolis Colts!!